Oulton Park Gold Cup, Bank Holiday Monday, 26th August 2013, HSCC Historic FF1600 Race
I was offered a last-minute drive in the HSCC Historic Formula Ford Championship race at Oulton Park's Bank Holiday Gold Cup meeting last Monday (26th August 2013) and decided to take up the offer.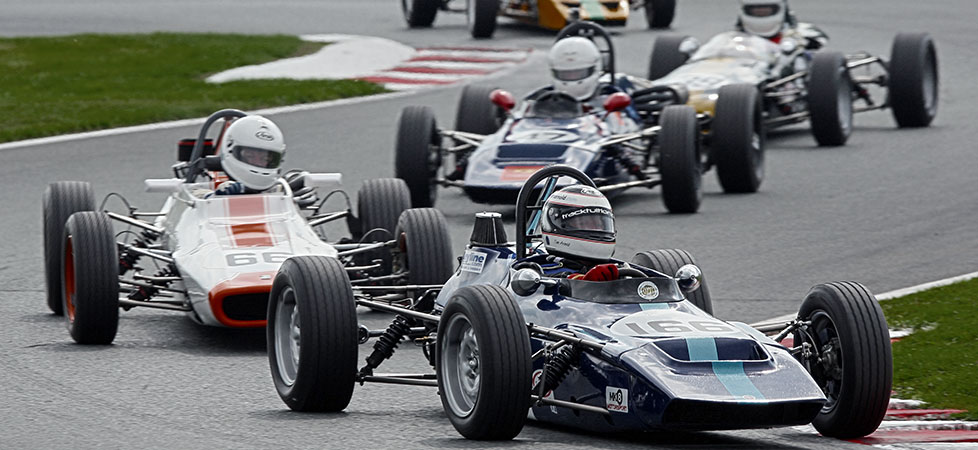 The Historic FF1600 championship is for pre-1972 Formula Ford 1600 cars. However, most of the cars in the Championship are effectively new, as with all racing cars, parts are refurbished or replaced regularly, even the chassis. FF1600 engines are Ford 'Kent' engines from Escorts, Capri's and Cortina's of the late 60's and early 70's, but they are 'blueprinted' by professional engine builders. Some engines are naturally better than others and some engine builders are better than others - occasionally some are 'extra good'! ;)
Competition in the HFF1600 Championship is very strong, more than half the field are previous champions either in Formula Ford or some other formulae, some recent, some from the past. Some are guys who were at the front of the grids in Formula Ford's heyday back in the 70's and 80's when the likes of Ayrton Senna were in it. The age of drivers in HFF1600 ranges from young 18 - 20 year old hot shots through to seasoned competitors on their 30's, 40's, 50's and 60's! None of them are pushovers though, there are many quick combinations of car and driver in HFF1600 all the way down the field.
When I decided to do the Gold Cup meeting, knowing how competitive HFF1600 was, I was aiming my sights on a top ten finish. However, Derek Buckton, who owns the Elden MK8/10 I was driving, told me there was no chance of the car being in the top ten as it was at best a front-mid-field car. On top of that I was going to be jumping into a car I had never driven before, for the first time, in qualifying! So I would have just 20 minutes to get used to the car, get up to speed and put some sort of a time in.
There's not that much to say about qualifying. I lined up in the assembly area with the rest of the 30 car field, in order, which is decided by championship position, so as I had not previously raced in the championship, I was at the back. This would be the first time I had driven a Formula Ford competitively in 17 years (although I did do a few testing laps in a similar car at different tracks two years ago when I was coaching its driver) and I was up against guys who had been racing all this season and previous seasons in these cars, so when we were released I just had to get on it straight away!
I was immediately quicker than some of the other cars at the back and passed several of them. It was busy though that far down the order and difficult to get a clear lap. I had a big slide at the left-hander in the middle of Hislops when the rear end broke away, and ran very wide at the exit of Lodge halfway through the session on oil someone had dropped (there was oil dropped in various places around the track. After just 7 laps the chequered flag was out and qualifying was over (the front half of the field got an extra lap in, doing 8 laps). When the results came out I had qualified 19th, not as good as I had hoped, but not too bad under the circumstances.
So to the race! The Gold Cup meeting is always a busy schedule and the HSCC don't hang around, as soon as all competitors were lined up in the assembly area we were released onto the track for our green flag lap. As we took our positions on the grid, being 19th I was on the right hand side of row 10, but as row 10 of the 2-2-2 grid is staggered to the left I was basically in the middle of the track.
Very quickly the grid marshals cleared the track and indicated that we were ready to go. The start line marshal raised the 5-second board and shortly after, the red lights on the start line gantry came on, engines were now revving! It was some time since I did a standing start in a Formula Ford and I hadn't practiced it. From memory though I knew the way to do it was to avoid sitting there with the rear tyres lit up! I anticipated the start well and was already letting the clutch out as the lights went out. The tyres initially spun and squirmed until I modulated the throttle to compensate, then they gripped and the Elden shot forward. It was a good start and I was gaining on the two cars in front of me and looking at the gap between them, thinking I would go through it. That gap quickly disappeared though and I had to go to the right, towards the pit wall. In my peripheral vision I could see the yellow car of Dick Dixon reflected in my mirror. Derek had warned me that Dick is known for his lightening starts and his car has a strong engine, I could see he was gaining on me, so I squeezed over towards the pit wall and he had to back out.
I was now on the inside line going into Old Hall (the first corner) and right up someone's gearbox. I was stuck, boxed in, and a number of cars went past me on my left! A little further round the lap, at the hairpin, I got 4th gear instead on 2nd gear on the down change and the car bogged down, another car simply out-dragged me out of the corner and beat me to the next chicane. I was down to 23rd!
So now it became a job of trying to gain those places back! It becomes a bit vague from here because I was focussed on going as fast as I could and getting past cars. I remember coming off Island so much quicker than one car in front that it was easy to fire the Elden down the inside into the Shell hairpin. Another was despatched into Lodge and another into Cascades. I was soon circulating in a pack that was ultimately fighting for 15th. It was hard for me to know exactly what position I was in but a friend watching at Cascades told me I had 15th briefly. That doesn't show on the lap chart because it only lasted for part of a lap.
Towards the end of the race I had quite a difficult problem (I think a few others might have too), someone was spitting out oil and I had quite a bit on my visor, but that was only part of the problem. As well as the usual gnats there seemed to be an infestation of wasps at Oulton on Bank Holiday Monday, and at least three or four of them met their end on my visor, one fat juicy example smack in the middle. I couldn't see properly so tried to wipe my visor clean, which made it worse! I flipped the visor up slightly but that wasn't very useful as I was thern just getting dust, grit and flies in my eyes. So I did the last three laps at least with blurred vision!
I do know that I started the final lap in 18th place, being hassled by Greg Thornton. Greg had been in front of me but had spun and was now behind me and desperately trying to get past. For a lap and a half he kept trying to put the yellow trimmed nose of his green Merlyn in any gap there was. His car seemed have a stronger engine than mine and he was able to easily get alongside. He went for the outside at Cascades but I just let the Elden drift out earlier, squeezing him towards the grass. He got inside me at Island but I kept my foot in doing 'the wall of death' around the outside, giving me the inside into Shell.
We arrived at Druids, the penultimate corner. In a Formula Ford there is little braking needed at Druids, a slight lift is enough in the dry and the corner is taken in top gear. I approached it from water Tower taking a line down the middle of the track and turning in early to defend my inside. So I was surprised to see Greg go flying by down my left hand side to try to go around the outside, I thought that there was no way he would make the turn at that speed, and I was mostly right. He slid off the track halfway round the corner onto the dirt and got very out of shape. Now it's quite common in these circumstances for a car to be spat back onto the track, and it looked as if that was what might happen. Either he was going to carry on spinning into the gravel trap or he was going to be spat back, very possibly into me! I didn't want a bill for any damage to the Elden, so I backed off thinking I'd give Greg plenty of room to have his accident and then I'd continue on. If I had known he was going to recover it I wouldn't have slowed, I'd have easily held the position and finished 18th, but he did manage to recover it by which time I had slowed too much to recover my momentum quickly. Greg won the sprint down to Lodge, I tried to put the Elden up the inside into Lodge but he closed the door and I lost the drag race to the finish line! I was 19th!
All in all it wasn't too bad of a result given the level of competition and me having so little time in the car, plus the car being only a mid-field runner at best. Derek also called me during the week and said he had discovered something when he was unloading the car back at the workshop. The day before the race we had adjusted the pedal box to bring the pedals closer to me. It turns out that the brake pedal was being pushed down slightly by one of the chassis rails, so the brakes were dragging constantly!
I really enjoyed the race and now I'm looking towards doing another, maybe the finals at Silverstone, we'll see. I'm also going to work towards doing the full season next year, which will include a better engine, fresh tyres more often, plenty of testing, and me getting lighter and fitter!